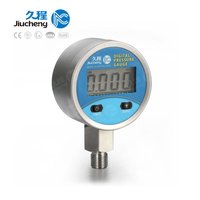 JC640 High Accuracy Digital Pressure Gauge
Price And Quantity
Product Specifications
±0.1%FS~±1%FS

60mm,80mm,105mm
Product Description
JC640 High Accuracy Digital Pressure Gauge Overview:
Specially designed for high-end supporting high-standard customers, and developed and manufactured jointly by a foreign company and us, JC640 digital pressure gauge serves as a pressure measurement instrument controlled by a high-accuracy microprocessor, which utilizes the low-power signal processor to send pressure signal to the microprocessor. The pressure sensor adopted is Jiucheng made high-accuracy and high-stability product that is compatible with electric devices of the intelligent pressure gauge.This intelligent digital pressure gauge is equipped with a large-size LCD display and high-brightness LED digital display, with such functions as zero clearing, backlight, startup & shutdown, unit switching and low voltage alarm. It is easy to operate and convenient to install.This battery-powered product is light-weight, so it is applicable to various pressure fields including portable pressure measurement, equipment matching and calibration equipment, etc..This standard product can be extensively used in different places. Under the precondition of guaranteeing specific quantity and application, our design team can redesign or improve the product according to customers' specific requirements, so as to meet special requirements during application.
JC640 High Accuracy Digital Pressure Gauge Features:
* Stainless steel dial can be chosen in multiple diameters, and can be installed axially or radially
* Wide range of operating temperature, high overall measuring accuracy and good long-term stability
* Battery-powered. Low-power design can last up to 24 months
*Its maximum and minimum value recording function can be used for peak recording
* Four-bit LCD display screen displays pressure in a real-time way, and four-bit LED digital display screen displays pressure in a real-time way
* Substitute pointer precision pressure gauges can be used as standard pressure gauges for calibrating pressure products and equipment
JC640 High Accuracy Digital Pressure Gauge Applications:
* Equipment automation
* Pump and compressor
* Machinery and electronics industry
* Substitute pointer precision pressure gauge
* Construction machinery and equipment
* Energy and heat supply
* Medical equipment
* Pressure laboratory
* Hydraulic and pneumatic systems
* Complete sets of instruments and apparatuses
Gauge Parameters:
Measuring range
Negative pressure Optional within 0~-1Kpa, -10KPa, -20KPa, -30KPa...-100KPa
Gauge pressure Optional within 0~1KPa, 5KPa, 10KPa,100KPa, 1MPa...100MPa
Absolute pressure Optional within 0~2Kpa, 5Kpa, 10Kpa, 100Kpa, 1MPa...3.5MPa
Compound pressure Optional within -1KPa~1Kpa, -10KPa~10Kpa, -100KPa~20MPa
Overload capacity
1.5 times of full-scale pressure (the overpressure of 100MPa is 1.1 times of full-scale pressure )
Pressure type
Gauge pressure, absolute pressure and differential pressure
Measuring media
The gas or liquid compatible with 316 stainless steel
Accuracy
±0.1%FS
±0.25%FS
±0.5%FS
±1%FS
Long-term stability
Typical:±0.2%FS
Maximum:±0.5%FS
Operating temperature
-10~ 70ºC(High temperature can be customized)
Range of power supply
Battery-powered, 24VDC, 220VAC, 380VAC(customized)
Signal output
Analogue output, such as 4~20mA / 0~5VDC, or digital output, such as RS485(customized function)
Display
Four-bit digital display or four-bit LCD display
Sampling frequency
5HZ
Enclosure protection class
IP65
Weight
Approx. 0.5kg
Interface and housing
Stainless steel 304
Ordering Information
JC640
eg. JC640-S260P-20M-1-P7-M1-T1-I High Accuracy Digital Pressure Gauge
Code
Dial dimensions
100
105mm
80
80mm
60
60mm
Code
Feature
X
Normal
G
GPRS
P
Homogeneous membrane
DP
Differential pressure
KF
Clamp
DN
Flange
Code
Accuracy
1
0.40%
2
0.20%
6
1.00%
Code
Power supply
P8
3V,Two AAA battary
P7
Customized
Code
Screw thread
M1
M20*1.5
M2
G1/4
M3
G1/2
M4
1/2NPT
M5
1/4NPT
M7
ZG1/4
M9
customized
Code
Temperature
T7
Customized
T1
(-5~40°)
Code
Additional
X
No need
I
Explosion-proof
Tips for Type Selection
1.The battery-powered product is of LCD display, without signal output options.
2. For other special requirements, please discuss with us and clearly indicate them in the order.
3. The medium to be measured shall be compatible with the material contacting the product.
Trade Information
shanghai

Telegraphic Transfer (T/T)
Yes

Within a certain price range free samples are available
Africa, Western Europe, South America, Central America, Asia

All India
Contact Us
1302, Bldg. 1, Xintai Int'l Plaza, No. 568, Shuanglong Road, Dongshan Street, Jiangning Dist., Nanjing, Jiangsu, 211100, China